The morning after ….. I groggily opened my eyes and looked around my messy room. My head was pounding hard and I wanted to stay under the covers longer but I knew I had to get up or else ill be late for class. Unwillingly, I went about my routine life like a billion other people out there… but somewhere deep inside I knew I was forgetting something important. Afterwards in class, as my lecturer kept on speaking Hebrew, I started to recollect bits and pieces of the 12 hours missing from my memory of the day before. They were just pieces… a finger, someone's birthday, a fight….. and Mike Tyson… or some black guy sitting beside me….. (no offense intended)  After going through the group pictures in Facebook, I had the exact same reaction as the four guys did at the end of the movie ' The Hangover'!
Well sure enough, I think some bearded retard rufied my drink and probably Wasio Bhai's as well, because we were acting like total lunatics! :D

Ok I think I've eluded you long enough! I wanted to tell the whole story in a Cinematic style, adding flashbacks before each occurrence but decided against it because I'll end up making you guys really confused! Honestly, my English writing skills aren't up to that mark… yet!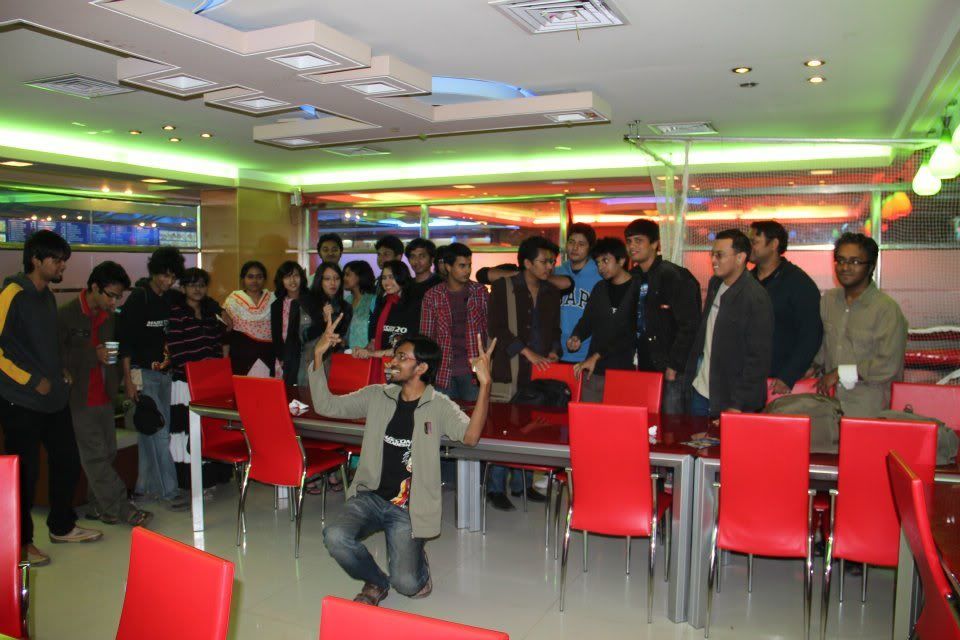 I remember walking into a familiar fast food joint but not quite a place I've been to before… Yes, It was the new Captains in Dhanmondi. It occupied one entire floor of the building and was separated into different parts.
When I arrived there at 3:00, there were already around 20 people present. I took out my camera and dutifully started to take random pictures in the hopes of capturing bloopers, which was quite entertaining! After seeing a flash in the corner of my eye, I suddenly realized that I wasn't alone. Someone else was also given the same job and from there on, we started the Flash Battle!
As I was taking pictures, I noticed many members I haven't known before. So I decided to introduce myself to them in hopes of getting to know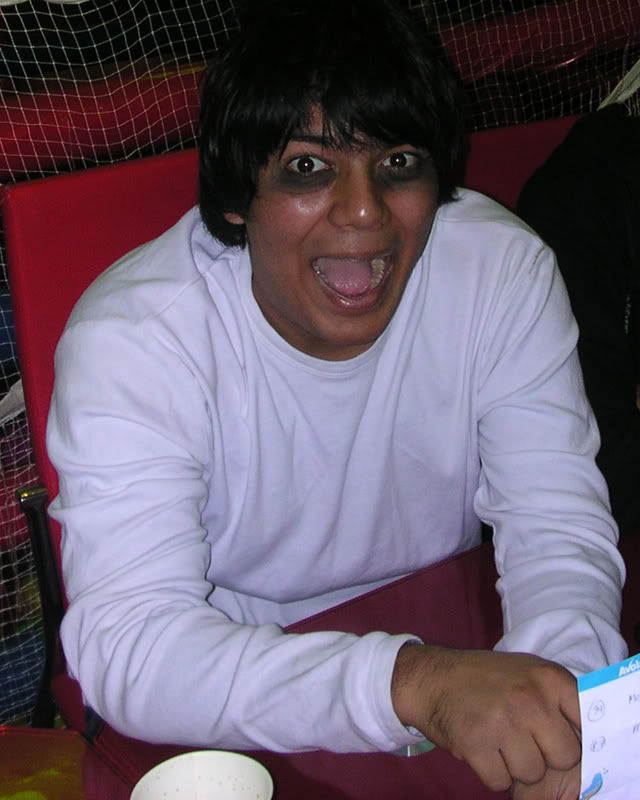 them better. It turns out most of these members already came to the Mazecon 2011, because they were asking me whether I made the language presentation in the Convention. Now that I look back, I should've kept them in the dark so to find out what they really thought about my performance. Oh well, might as well move on! There was one particular member who stood out due to his Goth eye makeup, sloppy posture and white baggy shirt…. You guessed right! Cosplaying as L (for god knows what reason) was our very own Zekichora! I guess his 'Mazecon fever' hasn't quite settled in yet!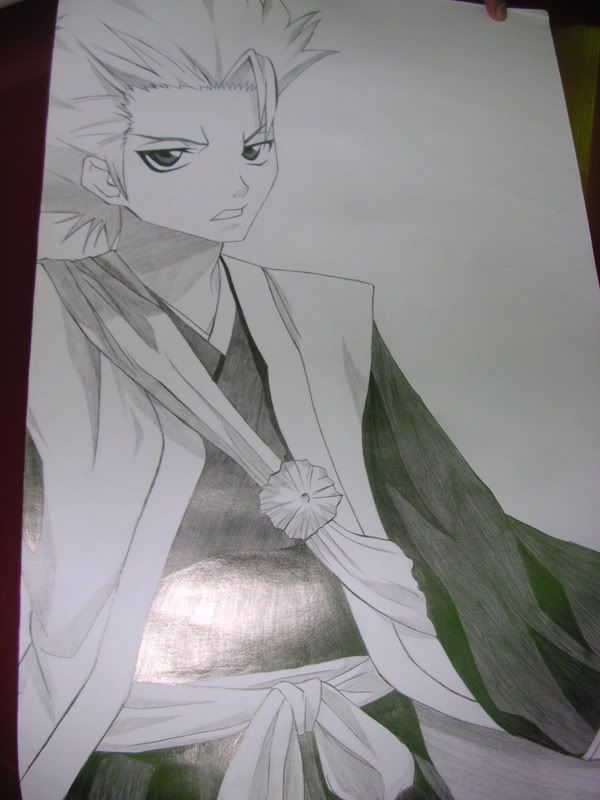 I don't know if this is sort of a tradition for Mazecity or not but it so happens that there will always be someone who brings splendid hand sketched artworks to make everyone jealous! :D Usually it's done by Deya so that we can all give our autographs on it! :P But this time it was our Mehedi Goni, Aurora Ryuzaki, Kushal Alam and some others, who brought many of their superb pieces. Sadly, they weren't for sale and some of them were brought as a birthday gift. Although we tried our level best to auction them or photocopy them, alas! Our attempts were flushed down the toilet. By this time it was already way past lunch time, so with roaring bellies we all marched towards the counter to order some food! I was almost made the Captain's waitress again but was saved by the Admins to take a few people with me at a time instead of taking all that order! *phew*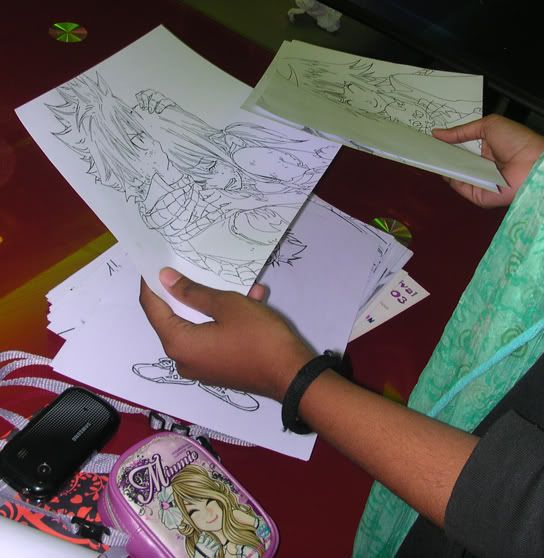 Now I remember the Mike Tyson type guy; I was requested to take some 'friendly' pictures with him (check out the group pictures). There is a lot of joy in being the camerawoman; you get to snippety snap away while others are not aware that you are catching their most embarrassing moments!
However, this time I was the victim while Wasi (other cameraman) was snapping away some moments that I'm not so proud off. Just as I was getting ready for round two the food arrived, so we sat down to have some grub (I was really hungry). Momentarily I wasn't paying attention to my surroundings but only the food in front of me. Captain's is a place that has never let me down in terms of quality of the meal; alas Shadab wasn't eating much because he needs to remove the "flabs over his abs"! lol! 

After we all ate, it was decided that all members will participate in a debate about….. pretty much anything related to anime. We were all first gathered in one long table and the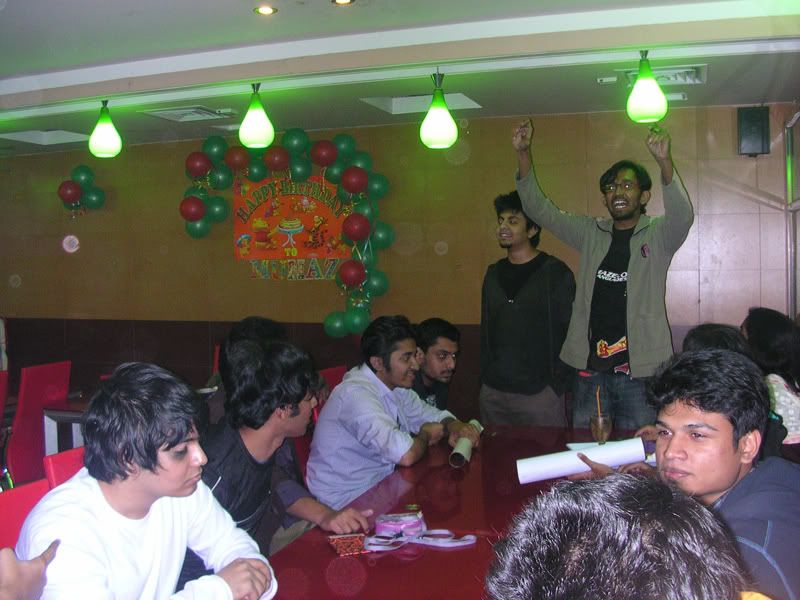 discussion was kicked off by Wasio Bhai and Shadab, and the topics were - how many anime have you seen, Death Note Vs Code Gease, Naruto Vs Bleach, One piece Vs Dragonball Z and whether or not FMA was better or Brotherhood. Everyone who wanted to participate were allowed (one at a time) to throw in their opinions and views about the topic at hand. Although all of them were quite interesting but two topics really stood out! First was the topic of FMA, in which case, some argued that Brotherhood was better because it was the Original story and it finally put a spotlight on a lot of characters that deserved it. On the contrary, some opposed this view by saying that the artwork of FMA was better than Brotherhood and some actually like the alternate new storyline. In the end, there was no clear winner. The second most heated and prolonged debate was, no doubt, about Death Note Vs Code Gease. While we already had our self proclaimed 'L' in the room but we also needed a 'Kira'. So our honorable Zoro sama was given the role to play… and he kept reciting one simple line - "I'm Kira because I know all of your names and faces". Hmm… Scary thought…  but I'm glad he doesn't know our full names though. Across the other side of the table, sparks were flying between Isar and Shadab (lol) ; you can actually see the thin line of electricity running between their foreheads while they debated
… Just kidding! But they did have a spectacular and long argument which probably lasted an hour, Shadab was in favor of Light and Isar was in favor of Zero. Honestly I don't remember any of it and Wasi was the only one brave enough to actually go in between them and start videotaping.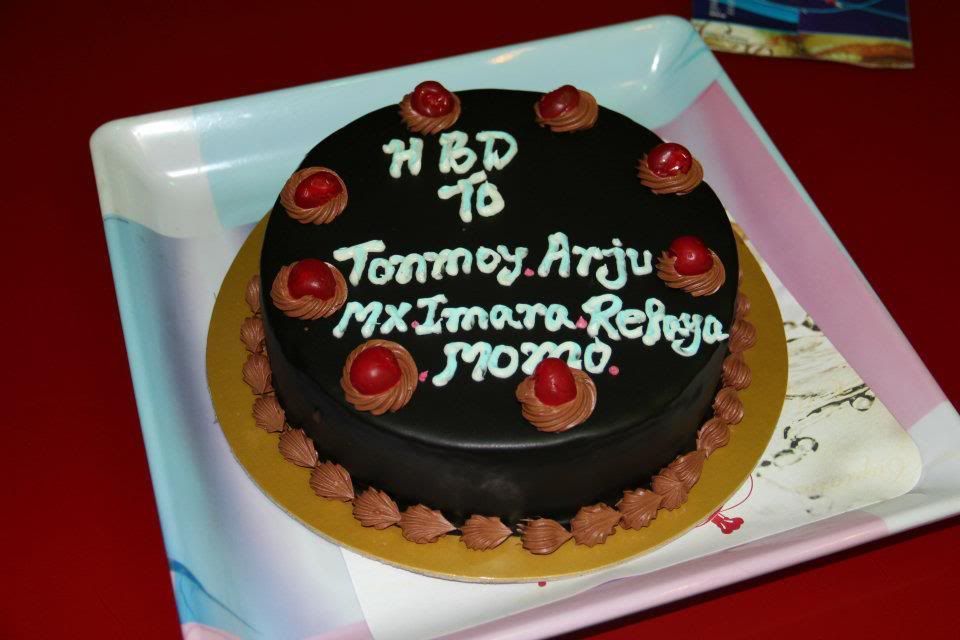 While, their argument went on somewhere in the background, our Chief guests decided to show up! I had no Idea that we were celebrating a few members' birthdays albeit late. Sakiko Imaya was presented with the artworks by Aurora as a birthday gift (I envy her) and Aj Arju was given a paper birthday hat to wear which was incidentally worn by Devils Kun. Now! It's time to cut the Birthday Cake!!! Our Chief guests and some extra privileged (lol) members lined up in the 'Birthday Corner' and enjoyed taking the cake apart and wiping frosting on other people's faces! See, here is another advantage of being 'behind' the camera!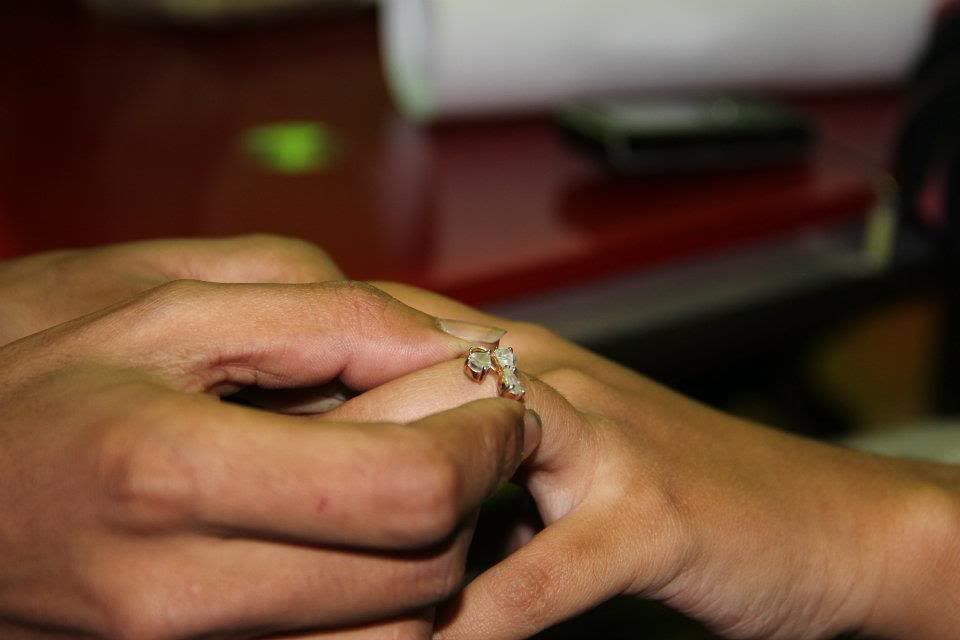 Somewhere in the middle, while we all enjoyed morsels of Chocolate cake, Devils kun decided to carry out an engagement ceremony in a corner of the room! What's that about? It's still a mystery for me… 
We even vandalized (not really) the Children's playing area; our very own Beelzebub (cosplayed by Wasi at Mazecon) decided to get up on the toy 'Hores' and compelled me to sit on the duck or he will electrocute everyone! Thankfully
no one put a coin in the slot that makes these 'animals' go back and forth, otherwise I would literally die of shame! I quickly escaped while other members still occupied the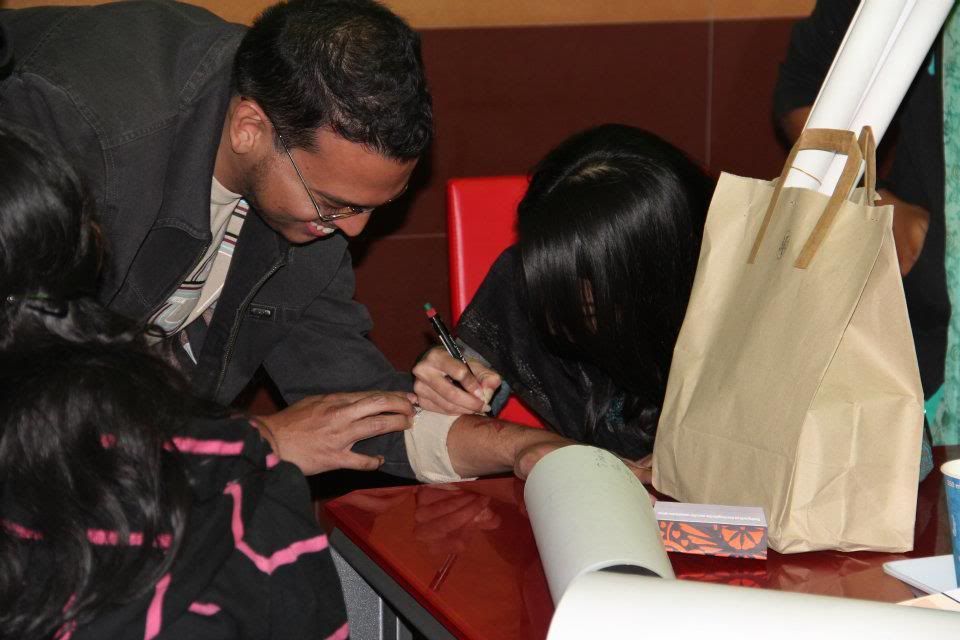 net bound playing area with a lot of balls in it (what is it called btw?)… which they claimed, was very comfortable! While on the other side of the room, Sakiko Imaya was drawing a red cross symbol of One Piece on everyone's hands!

Even though the Meeting was supposed to end at 4:30, we all ended up leaving as late as around 7! On our way out we checked out the shop at the doorway I mentioned earlier, I was half expecting to find some anime related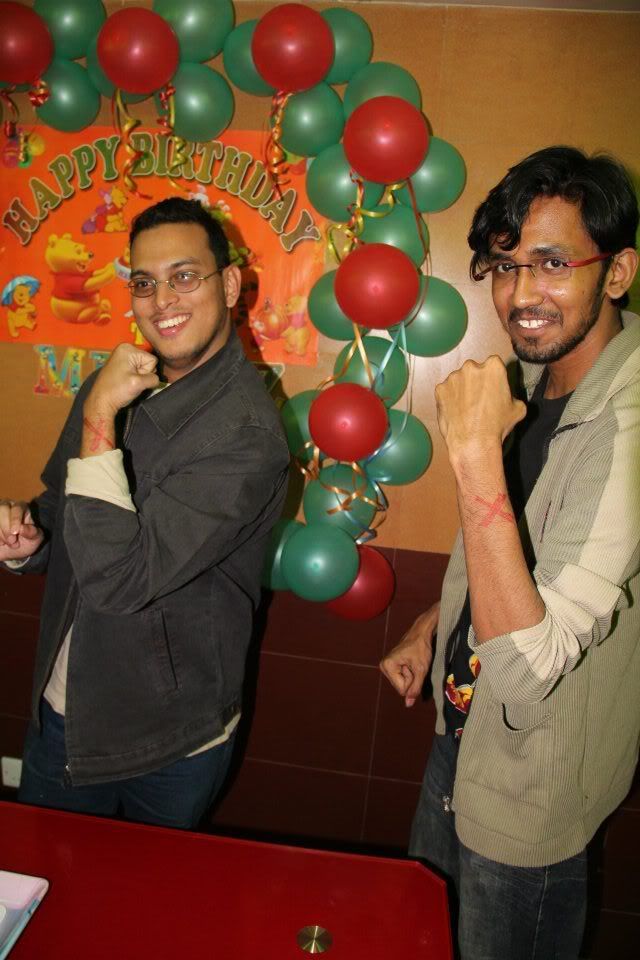 merchandise but didn't spot anything to my liking. Right then I saw it! It mesmerized me with its revolving motion and I knew I had to have atleast one! A five storied revolving glass storage full of Chocolate Treasures!!! At last I succumbed into buying a Bournville and a Cadbury Silk and tore myself away from the counter to move on to the elevator. Everyone had a Photo Session outside one last time before parting ways…

Hmm… cinematic or not, I still ended up writing quite a long review. I hope I didn't bore you to death
(ofcourse only those who didn't die will be able to answer! Lol), but I didn't want to leave any details out in this year's first meeting. So you see, we were all kinda acting like loonies from the local loony bin! Very….. suspicious…. *raises an eyebrow*.  You can read this review any way want but the 'recommended' way is to sit like L and have a Chocolate bar (or anything sweet) in your mouth, it increases your concentration!


Mata ne (see you again)…
written by Nikhat Kuchiki and photography credit goes to Wasi and me