Unlike others, this meeting was hosted by Tonmoy Shams, who is one of Wasio Bhai's very close friends and one of the founders of Mazecity Facebook Group. After his arrival everyone signed their names on the Mazecity's unique sign up poster and had some food.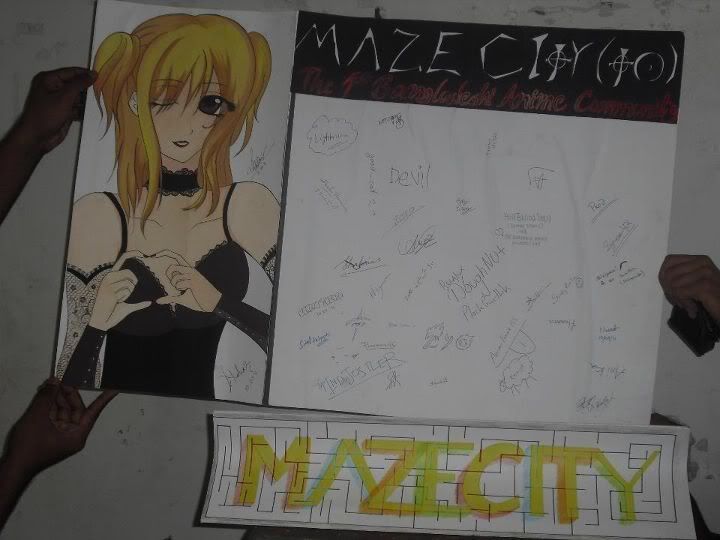 This poster was hand drawn by Deya Amaya of a 'moe' illustration of Misa Amane. The Mazecity banner was quite genius with a maze covering the heading. She also drew a colorful image of Lelouche from Code Geass. Hmm…. maybe I'll bring some of my
artwork as well next time!!
Two members brought Laptops which were used to exchange anime while one of our members had 'Devilish Luck' and brought a broken thumb to the meet!
Meeting was exceptionally special due to the delivery of the long awaited custom tailored Death Note T-Shirt. While everyone was engrossed in conversation, when Shinobi Bhai started to take out the Shirts, everyone instantly converted their attention to the pile on the table. It was quite mysterious looking, with specs of blood, burial ground atmosphere portrayed in white over black. Very well representation of Death Note, while Kira stood there with his weapon of mass destruction!
While the artwork was good in the hands of our Administrators but as soon as it fell in the hands of the suppliers it got distorted. The suppliers were obviously not knowledgeable about many technical aspects of printing a T-shirt. They took the order of making the shirts without mentioning to any of our Admins that they actually don't know how to enlarge the image. As we all know, that this has never happened before and we will make sure that it does not happen again in the future. I must emphasize the fact that, this is purely the fault of the suppliers and only they are responsible for this error.
Overall it was a very festive meet, in which there were both old and new members. Credit for the photography goes to Zoheb Sama, Devil's luck and Ibrahim Naser. Please check out the full albums in our group and fan page. By the way, below is a video tribute to Mazecity made by Akai Hana. See you next time!